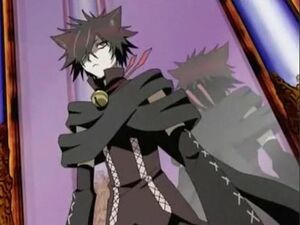 Cheshire Cat
is the boss of
Chapter V
. (Well, for everyone except
Frost
, who had to fight
Ember
). He seems to have some sort of connection with
Luna
.
Powers and Abilities
Edit
Cheshire, being a cat, has catlike reflexes. He also has great strength, sufficient to knock Nico out of her uber-Firefox form. He also has the ability to shoot his claws as projectiles.
-GM Note: Unlike other crossover characters, the Insane Quest version of Cheshrie Cat is a completely separate one from the Cheshire Cat from Pandora Hearts, and plot-wise is an alternate take on the same character.
Ad blocker interference detected!
Wikia is a free-to-use site that makes money from advertising. We have a modified experience for viewers using ad blockers

Wikia is not accessible if you've made further modifications. Remove the custom ad blocker rule(s) and the page will load as expected.